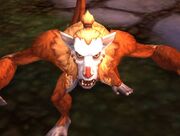 The 
Hozen 
was a
species
 seen in World of Warcraft: Mists of Pandaria. They are only located in one continent, one isle.
The Wandering Isle
 is the first place, the birthplace of most
pandaren
, enemy of the Hozen, such as
Chen Stormstout
. These Hozen were also 
monkies 
pretty much, except in the way of monky warriors. The second place they are seen is
Pandaria
, which would mostly include
the Jade Forest
. Also the enemy of the
Jinyu
.